Everything to Know about Surviving (and Cherishing) the Newborn Stage
Anna
Welcoming a baby into the world can be one of the most rewarding experiences you can feel in a lifetime. The months of pregnancy in anticipation of meeting your mini me can also be an exciting yet indescribable experience.
But just like any new adventure in life, there's a learning curve. The newborn stage is an exciting time in your life, though there will be difficulties faced along the way to the toddler years. The good news is that the newborn stage does get easier with time, and it doesn't last nearly as long as it seems.
How Long Does the Newborn Stage Last?
You may find yourself wondering "When does the newborn stage end?" or "When will life feel less chaotic?" and the good news is that babies are only considered newborns between the ages of two and three months. Immediately following the newborn stage is the infant stage, which lasts until your baby turns one year old.
While the newborn stage may be over after a few months, it may seem like the newborn phase lasts a little longer. It's important to note that every baby is different; each mom may experience different challenges with her baby during their first six months of life, but the good news is that there's a strong community of mothers who are going through the same major lifestyle change.
How to Survive the Newborn Stage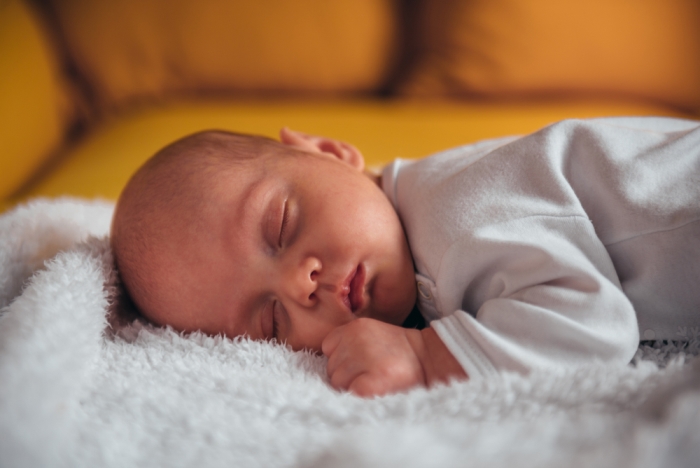 The newborn stage can be incredibly bittersweet. You're watching your new love get acclimated with the world, but you're also dealing with feeling overwhelmed, sleep deprived, and out of sync with your old habits. Surviving the newborn stage is all about getting comfortable with the new normal and remembering that your baby is simply getting used to the first stage of life outside of the womb.
You may have tough times, but it's important to pay attention to all of the small little blessings that fill your home with joy as well! Here are a few tips and tricks on how to enjoy the newborn stage:
1. Set Responsibilities and Expectations with Your Partner
Mothers tend to feel a natural pressure to handle the responsibilities that come with parenthood. The early weeks can feel overwhelming as you learn how to handle short sleep stretches at night, feeding your baby, and remembering to take care of yourself as well.
Communicating expectations and obligations with your partner can keep you from experiencing burnout during the newborn stage, and it can help your relationship grow stronger. Bringing a baby into the world is a family responsibility, and you both need to make the effort to feel calm and collected during the good and bad times.
2. Build Your Village
Beyond support from your partner, make sure to let other family members and friends lend a helping hand during the newborn stage. They say it takes a village to raise a little one, and this couldn't be more important during the first few months of life.
If you don't have close family members nearby, inquire within a women's health center about support systems. They can give you the resources you need to feel comfortable and confident during the newborn phase, and they may be able to connect you to other mothers in your area. Making friends with moms can help you feel more at ease during the newborn phase with others going through the same lifestyle changes.
3. Make Time For Yourself
Before having a baby, you were only solely responsible for your own wellbeing. You only had to worry about your own health, happiness, and free time – now you're helping your little one learn how to get acclimated to play time, nap time, feedings, social interactions and so much more.
Being responsible for another person can make it difficult to remember to prioritize your own wellness too. Make sure to set aside time for yourself, as a happy and healthy mother will make for a happy and healthy baby. This can be as simple as working with dad in the morning to take care of the first feed so that you can sleep longer. Or, it may involve arranging a babysitter for you and your partner to grab a quick bite to eat.
4. Cherish the Small Milestones
The first few months of your baby's life will fly by, even when it feels like the hours are dragging on. Don't forget to take a step back and acknowledge all of the milestones between you and baby. Celebrate those longer stretches of sleep, get excited about the first smirk and remember to embrace every giggle and reaction they have to your love and devotion.
5. Celebrate the Newborn Stage with Breast Milk Jewelry
There will be days and nights that feel neverending. There will be challenges involved with getting acclimated to a sporadic sleep schedule. Lack of sleep will get the best of you.
But the end result is magical: raising your newborn baby into a happy, loving family. Celebrating the newborn stage is just as important as acknowledging it, so consider gifting yourself a piece of breast milk jewelry to commemorate this remarkable period of your life.
At KeepsakeMom, we're here to help you celebrate these moments. We can take your breastmilk and transform it into a beautiful piece of jewelry, allowing you to keep your little one near and dear to your heart no matter where you are.
From rings and earrings to necklaces and bracelets, there's a keepsake for everyone. You can even add small customizations, such as birth colors, shimmer, gold or silver flakes, a lock of your baby's hair, or even script. This personalization can make your breastmilk jewelry that much more special. If you can't decide on one piece, consider our matching sets of earrings with a necklace.
Gift yourself an unmatched keepsake and inquire about breastmilk jewelry today.