Why Is Birthstone Jewelry So Special for Mothers?
Anna
Birthstones are one of the most popular mementos for celebrating a child's birth month. Each stone and color is unique to a specific time of year, offering a precious gem that can be worn as a keepsake or a symbol of life and togetherness.
Not only does each birthstone have its own color, but it also comes with its own individual meaning. Here's what each birthstone and birth color represents based on your baby's birth month, as explained by World Wide Mythology:
January: Garnet. This stone is known for its protective properties, guiding its wearer safely through dark days.
February: Amethyst. This stone brings peace and tranquility, while also offering a layer of protection.
March: Aquamarine. This is a stone that represents sympathy, trust, harmony, and lasting relationships.
April: Diamond. This stone symbolizes faithfulness, love, and purity—one of the many reasons that people choose diamonds for engagement rings and wedding bands.
May: Emerald. The green hue of this stone brings good luck and wellness.
June: Alexandrite. This colorful stone embodies love, creativity, and inspiration.
July: Ruby. This stone serves as a representation of vitality and endurance.
August: Peridot. This stone is known as an emblem of strength and togetherness.
September: Sapphire. This is a stone that signifies purity and wisdom.
October: Opal. This stone is symbolic of confidence and faithfulness.
November: Topaz. This stone is considered to be a symbol of love and affection.
December: Turquoise. This stone is a love charm that signifies fortune and success.
Even without these meanings, wearing a piece of jewelry with your child's birthstone is a wonderful way to carry them around with you no matter where they are. But the symbolism of each birthstone only makes every piece that much more special. Let's take a closer look at the meaning behind these beautiful representations of motherhood, and how you can include your baby's birthstone in one of our hand-crafted pieces of breastmilk jewelry.
Reasons to Consider Birthstone Jewelry
Wearing a piece of jewelry that reminds you of your children can serve as an irreplaceable keepsake that you hold dear to your heart. There are many reasons to purchase birthstone jewelry for yourself or to gift a piece of birthstone jewelry to either your own mom or another special mother in your life.
1. Celebrate the Journey of Motherhood
Becoming a mother is one of the most important roles on the planet. A piece of jewelry that reminds mothers of their hard work and dedication can be a lovely way to honor all those special moments between parent and child. Including a baby's birthstone adds yet another layer of meaning to any piece of jewelry, making it a beautiful gift to yourself—or a wonderful token from a loved one who has supported you on your journey through motherhood.
2. Spark a Greater Spiritual Connection with Your Children
Though modern-day birthstones and birth colors are assigned according to birth month, there are also religious origins and spiritual aspects surrounding the meaning behind birth colors. Typically, a birthstone is meant to bring luck and good fortune to those who wear it. But birthstone jewelry can also help you form deeper spiritual connections with your children, as well as acting as an emblem of love and protection.
3. Remember a Loved One Lost
While birthstone jewelry is most often a symbol of celebration, it can also be used as a powerful token of healing. Rings and other jewelry made with birthstones can serve as a memento for mothers who have faced the heartbreaking loss of a child. For a grieving mother, a custom birthstone ring or necklace with your baby's birthstone charm can offer a sense of peace, love, and remembrance as you navigate the next chapter of your life.
Popular Birthstone Jewelry to Consider
The mother's ring is without a doubt the most common and popular option for birthstone jewelry. Mother's jewelry with birthstones, however, can also come in the form of necklaces, bracelets, earrings, and more.
KeepsakeMom offers a wide range of breastmilk jewelry with birthstones, all of which is customizable and crafted by hand. One of the many inclusions you can add to any piece of jewelry is your child's birth color. By including a color tint to symbolize your child's birth and the profound connection you share, you can use your personalized piece of breastmilk jewelry to carry your baby with you always.
What Is a Mother's Ring, and What Does It Represent?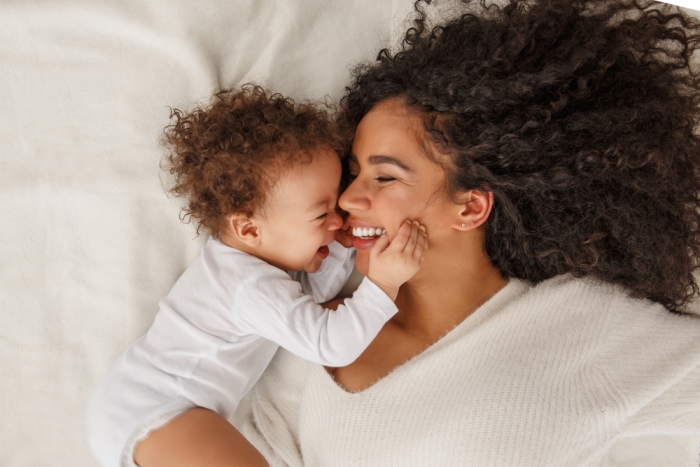 The mother's ring is one of the most common types of jewelry to include a birthstone, representing the unbreakable bond between a mother and her children.
The history of the mother's ring goes back a little over half a century, when a jeweler decided to join his and his wife's wedding rings together as a Mother's Day present. It's said that once Mother's Day was officially named a holiday in 1914 by President Woodrow Wilson, jewelers began creating pieces specifically to represent the bond between mother and child. Now, mother's rings serve as a sweet memento containing the birthstone of each child, which mothers can wear and carry with them forever.
Add Birthstones to Breastmilk Jewelry
Finding gorgeous, unique jewelry that includes your baby's birthstone is made simple with KeepsakeMom. Our one-of-a-kind breastmilk jewelry is made from your individual breast milk, making each piece a deeply meaningful symbol of love for your little one. We make it easy to choose just the right piece, and to personalize it even further by adding birth colors and other inclusions like baby footprints, names, or even locks of hair.
Let us help you keep your baby near and dear to your heart no matter where they are. Shop our rings, necklaces, earrings, and more to find the perfect breastmilk keepsake for you and your child. Can't decide on one piece? Check out our breast milk jewelry sets and customize a necklace to match a pair of earrings! Ready to get creative yourself? We also have a DIY Kit option to create your own breastmilk jewelry! Order yours today.