Adding Inclusions and Creating Custom Jewelry
"Inclusions" are all the special little things that you can
add to your breastmilk stones to further personalize
any of your pieces. And you can add them to any necklace,
ring, earring, or bead.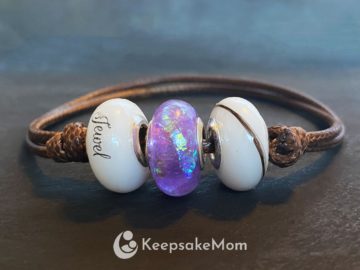 Our range of inclusions offers everything from shimmers and color tints—including birth colors—to gold, silver or opal effect flakes. You can also add your child's name, your baby's handprints or footprints, and even a lock of your baby's hair. Whether you combine several different inclusions or add just one, they're the ultimate way to take your jewelry to the next level.
These inclusions are available as options on the individual pages of a wide selection of pieces, but please know that you can add them to any piece as extras.
FLAKES AND SHIMMERS
Why not accent your breastmilk stones with yellow or rose gold flakes, silver flakes, opal effect flakes, or colored flakes?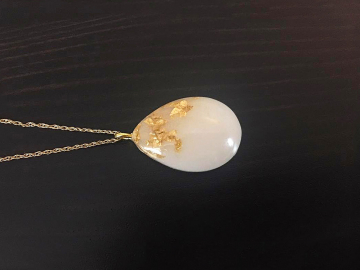 Powder blue and blush pink are two of our most popular colors, as are birth colors, which celebrate your birthing experience as well as the bond of breastfeeding.
In addition, combining colored flakes with metal flakes—such as pink and gold, as in our Golden Girl necklace—can be an especially dazzling reminder of the special times you've shared with your baby.
You can also add pearl powder to your breastmilk stone, which, true to its name, creates a lustrous, pearlescent finish. It's no surprise that this is an ideal inclusion for breastmilk "pearls," which symbolize the rare and treasured relationship you share with your child.
Perhaps one of our most extraordinary inclusions is opal effect flakes, which give your breast milk a pale, opalescent appearance that's iridescent in sunlight, like a true opal stone. Rose gold jewelry with opal effect breastmilk stones is, in our opinion, a timeless pairing—check out our Drop of Opal necklace to see it for yourself.
BABY PRINTS
Just as your breast milk is 100% unique, so are your baby's handprints and footprints.
A signature KeepsakeMom exclusive, adding your baby's prints to your jewelry is a specialty of ours and a precious way to capture those tiny little hands and feet. You can add any combination to either the front or the back of your breastmilk stone—or both: one hand, both hands, one foot, both feet, or even one hand and one foot.
Best of all, we keep it easy—to add your baby's prints, all we need is a copy or picture in any standard file format such as PDF or JPG. In fact, our Angel Prints necklace line is one of our top sellers.
NAMES AND SCRIPT
For a more personalized touch, another lovely option for your breastmilk stone is to add your little one's name, birth date, or even a little note like "Love Forever" or "Breastfed with Love", or any combination of these.
You can even add multiple names and choose where on the stone you would like them displayed. However, we do avoid adding names or script to our "small stone" breast milk rings, as the scaling down results in less defined or harder-to-see details.
Send us any Google font that best reflects your style, or simply pick from our drop-down menu of customer favorites. And rest assured that because we embed all our script deeply within each breastmilk stone, it is completely protected and can never be scratched or erased.
Take a look at our Little Darling Bead for a brilliant example of how your child's name can be beautifully incorporated into your breastmilk stone.
LOCKS OF HAIR
Celebrate another motherhood milestone—your child's first haircut—and add a lock of your baby's hair to your one-of-a-kind breastmilk stone. This works especially well with pendants and beads, but you can add it to rings with larger stones as well.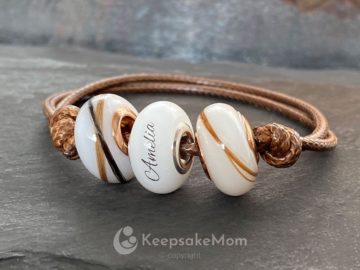 For this inclusion, we usually ask for roughly twenty strands of your child's hair, measuring 1–1.5 inches in length. Ideally, however, we prefer a bit more in case we need to rework the strands to make sure your piece is perfect. Softer hair is easier to work with, and curly (soft) hair is fine, while stiffer hair isn't always as predictable. But that's the beauty of this and of all our breast milk jewelry, where every piece is unique.
Finally, although locks that are shorter than an inch present their own challenge, don't worry, as we can work with your baby's hair even if it's short and sparse. In fact, some mothers are content just to know that their baby's hair is embedded in the stone—even if it isn't visible, simply having it there is special.
You, As Designer
We offer many ways to personalize and add relevance to your
breastmilk jewelry beyond the breastmilk itself. As the designer
of your own jewelry, you get to shape and create the breastmilk
stone that best reflects your style, taste, and personality.